Submitted by root_admin on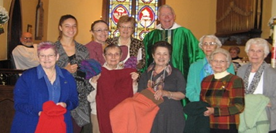 Pictured here are some of those who have taken part in St. John's "Christmas At Sea" ministry of the Seamen's Church Institute. From left to right, those present on Sunday, Oct. 16 included (on the front row) Gretchen Eichensehr, Lois Cruikshank,Kim Richardson, Mary Zimmerer, Diana Chase and Estelle Yelnosky, and on the back row, Nora Tietjens, Deb Tucker, Ginny Gill, along with Fr. Gene Tucker.
At the Sunday morning 10:00 a.m. service, October 16, 2016, the people of St. John's, Huntingdon, blessed another box of hand-knit scarves, caps, and sweater vests destined for the Seamen's Church Institute "Christmas at Sea" program in Port Newark, N.J.  When sailors on those big ships at sea or pilots on the big rivers of the United States come into port, they find a place of comfort and welcome as well as receive a knitted or crocheted gift to keep them warm.
The box we sent this time (6 sweater vests, 15 scarves, 2 mariner scarves, and 7 hats) brought our recorded total to 850 items collected since 1998. We also celebrated this as our 30th year of knitting for the sailors, a mission project brought to us in 1986 by Lois Cruikshank. We actually have no clear idea of how many items were made and sent in the first 12 years of this work, from 1986-1997, because no records were kept.
Over the years of this ministry some people bought yarn or paid for shipping while others made the items in increasingly more colorful patterns. In the early days everything was to be made in dark, solid colors of yarn, but now there are wildly colorful (not light yarn though because of working conditions) and striped as well as brightly patterned scarves. For safety reasons no fringe on scarves or tassels on caps are allowed.  A chronological listing of names in order of their participation reads like a slice of history from the Diocese of Central Pennsylvania:
Claire Todd +          Ginny Franke+       Gini Bennethum+
Betty Appleby        Louise Goldstein    Kim Richardson
Mary Zimmerer     Lois Cruikshank    Darthea Bardine
Polly Mills                Deb Shope               "K" Terrizzi
Dottie Wawrose    Adelaide Shaffer    Betty Kerr
Peggy Reeder         Cathy Henry           Carolyn Shope
Gladys Gingrich     Ginny Gill                 Liz & Steve Hoy
Fay Glosenger        Elizabeth Goodman          Estelle Yelnosky
Mary Beth Cruikshank                                        Gretchen Eichensehr
Marie Rodli+           Nora Tietjens                     Diana Chase
Judith Campbell     Pattie Cruikshank             Deb Tucker
(+ = Entered into rest)
As usual, the congregation of St. John's and the visiting knitters completed their celebration with a potluck luncheon.