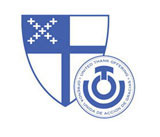 The United Thank Offering addresses compelling human need through grants to projects that alleviate poverty, both domestically and internationally, within the Anglican provinces, dioceses, and companion dioceses.
Mission: Expand the circle of thankful people.
Vision: Significantly impact the lives of women and children because of God's love.
Important dates: 
Spring Ingathering - May 8, 2016 
Be sure to send all donations to: 
Alyce D. Peiffer, UTO Coordinator, 63 E Crestlyn Dr., York, PA 17402  Make checks payable to: Diocese of Central Pennsylvania/UTO
All UTO supplies can be ordered directly from the UTO website or by calling  1-866-937-2772 (Blue Boxes, etc.)
NEW - Please read this letter to parish administrators from Shirley Wagner.
United Thank Offering (UTO) Grant Applications
Remittance of Ingathering
The checks for the Spring UTO Ingathering should be sent to:
Alyce Peiffer
63 Crestlyn Drive
York, PA 17402

Do you have a smartphone?  Check this out!
A new way to give thanks to God for our many blessings through The United Thank Offering.
First, download a scanner app - Iphone can use ATT Scanner, then scan this barcode and see that it takes you directly to the UTO website - click the red button and choose United Thank Offering to either give one time or schedule recurring giving.
What a fun way to give while on the go, (or just playing with your phone).
NO SMART PHONE: Visit the UTO website at www.utochange.org and click on the red give button to give online with a debit or credit card. 
Contact information
Province III UTO Representative
Joyce Douglas
amielonie@aol.com
Episcopal Church Office
The Rev. Margaret R. Rose
Co-Director
New York, NY
(212) 922-5354
Antoinette (Toni) Daniels
Co-Director
New York, NY
(212) 716-6332
Website: http://www.utochange.org
United Thank Offering is on Facebook!
Order UTO materials: http://episcopalmarketplace.org/Products/United-Thank-Offering or (866) 937-2772