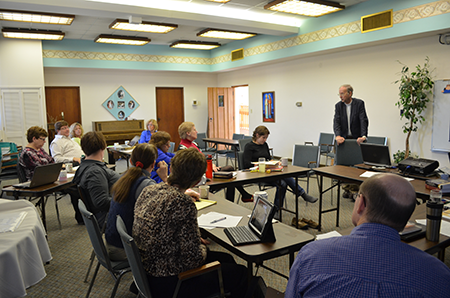 New - Discernment Modules Available Through Stevenson School for Ministry
Open to all who want to explore and seek, also an opportunity to deepen faith and putting faith into Action. Choose a module or two this fall.
Module 1: Meeting God's Call: Who is the God who is calling us? - Pre-Orientation, all online, a three week module
Using Bishop Edward Little's book, Ears to Hear, Recognizing and Responding to God's Call, invites those who are exploring their call to lay or ordained ministry to ask "Who is the God who is calling us?" This module looks at the stories of God's call to ordinary people, gaining a deeper understanding of their relationship to God and the nature of Gods' call.
Module 2: Meeting God's Call: A Discovery of Gifts—for all who seek a deeper awareness of how to engage in ministry and mission. Join this community of seekers and learners begins Sept. 30, orientation weekend.
Discovery of Gifts Outcomes:
Students will gain an awareness of the gifts they possess for ministry.
Students will tell stories about "Good Experiences."
Students will identify and reflect on their experiences.
Students will identify "solid", "emerging", and "hidden" and buried gifts through reflection and in the context of small group interaction.
Students will listen to the experiences of others and reflect on those experiences.
Students will examine and discuss the connection between gifts and ministry.
Discernment Internships
coming soon
Resources & Forms for Individuals & Parishes
Discernment Process Outlines
For Those Seeking Ordination to the Diaconate in the Episcopal Church (2016)
For Those Seeking Ordination to the Priesthood in the Episcopal Church (2016)