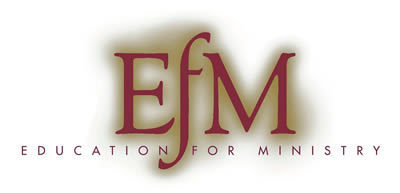 Education for Ministry, affectionately known as EFM, is a program of theological education-at-a-distance of the School of Theology of the University of the South. Students sign up one year at a time for this four-year program. It covers the basics of a theological education in the Old and New Testaments, church history, liturgy, and theology. Students meet regularly, usually once a week, in seminars under the guidance of trained mentors. The program grants a certificate at the completion of the four years and 18 Continuing Education Units for each year's work.
Every baptized person is called to ministry. The Education for Ministry (EfM) program provides people with the education to carry out that ministry. During the Service of Confirmation we ask God to "Renew in these your servants the covenant you made with them at Baptism. Send them forth in the power of the Spirit to perform the service you set before them." EfM offers an opportunity to discover how to respond to the call to Christian service.
More information about EfM is available from the EfM website.
Find Us on Facebook!
Upcoming Trainings
Coming soon
Resources
EFM... Calling, Challenging, Life Changing
EfM in Victoria, British Columbia
Recent News
EfM in State College (2011-2012 update)
Diocesan EfM Coordinator Attends Training
Diocesan EFM Mentors
Harrisburg:
The Rev. Canon Joseph Seville (ret'd)
717-236-5959
Northern Tier:
Presbytera Susan Hinton
570-724-2973
State College:
Dr. Richard Hoover, Ph.D.
814-238-4488
Mrs. Margery Fleming
814-237-8615
York:
Ms. Barbara Mowrey
717-757-7068
Lancaster:
Mr. Brad Zuke
717-569-0668